Timberwolves: 13-40
Pistons: 18-33
[table "1" not found /]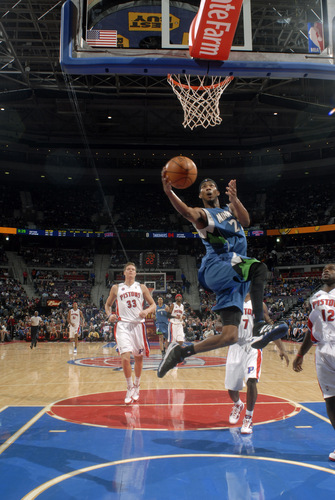 Wolves finally get back to basketball as the start of the second half of the season is here but unfortunately it starts with a familiar streak — a losing one. It also doesn't help that the Wolves have lost 10 of their last 11 games on the road. But we can't fret. The Pistons have struggled at home this year including a recent streak of six out of their last seven in the Palace. Both teams are very different in their approach to the game. The Pistons slow down the game whereas the young Wolves enjoy getting out and running the court into the ground. The key for the Wolves tonight will be: A) Running this Pistons team into the ground, B) Let the big fellas work their magic underneath against a lame frontcourt that the Pistons have (Minus "Big Ben" Wallace), C) Guard Rodney Stuckey and not allow him to take over. If he does, it could spell havoc for the Wolves and notch another "L" into their losing streak. He is they key to their offense, so Flynn and Sessions can't let him get into a groove, especially early in the game. I'm interested to see what Brewer will look like, coming out of the All-Star break. Before the break, he has been tearing it up and has it a trey in every game dating back to January 6th. Hopefully he will continue his hot streak and not grow rusty from the break. We will need him down the stretch, if we don't want to lose as many games as we did in the first half.
Match-ups:
Point Guard:
Jonny Flynn vs. Rodney Stucky
Flynn put forth a good performance in the Rookie Challenge and won bragging rights over Kevin Love in the process. I hope Jonny comes in with a cool and relaxed head on his shoulders, which will allow him to do his thing and make plays against Stuckey. Stuckey is what makes this Pistons offense work and they are better off when he scores and scores a lot. Flynn will need to shut him down and I think he will be able to do that tonight.
Advantage: Minnesota
Shooting Guard:
Corey Brewer vs. Richard "Rip" Hamilton
This will be a key match up tonight. Brewer is playing at the top of his game right now and Hamilton has been one of the best Pistons in the past decade. He helped lead them to an NBA Championship in 2004. Rip's numbers have declined slightly this season, probably due to his older age. But don't let him fool you. The man still has the tools to lead the Pistons to a win any night, any game. On the other hand, Brewer has the tools to stop Rip from going off and I think he will also play well on the offensive end of the court.
Advantage: Minnesota
Small Forward:
Ryan Gomes vs. Tayshaun Prince
Gomes has been a bit inconsistent this season and the same goes for Prince. Prince was a part of that title team in 2004 and still proves to be a solid aspect to this Pistons lineup. His last outing had a line like this: 23 points on 11-15 shooting, five rebounds, and an assist and a block. Not too bad by my measures. The depth behind Gomes, Wilkins and Pavlovic, doesn't help the matter of inconsistency either so I think Prince may have a good night. But we'll see for sure.
Advantage: Detroit
Power Forward:
Al Jefferson vs. Jonas Jerekbo
Listen, Jerekbo is a great rookie on a bad team. I truly do like him and I think he could develop into a good forward in this league. But to think he even has a shot against Jefferson's strength down in the post is preposterous.
Advantage: Minnesota
Center:
Ryan Hollins vs. Ben Wallace
Coach Rambis may switch up the lineup tonight and if he does, this will be the first match-up to change. Hollins has played utterly crappy in the past few games and its really too bad, especially after that great boost he gave the starters when he first jumped in the starting lineup. Wallace will be too strong for him to do anything underneath on offense and defense. Wallace won't be a game-changer due to his lack of ability on offense but his defense will pose as a threat to what we can do on offense in the paint. Not to mention, Wallace will be stealing rebounds from Jefferson and Love all game long.
Advantage: Detroit