Timberwolves: 13-42
Bulls: 27-26
[table "1" not found /]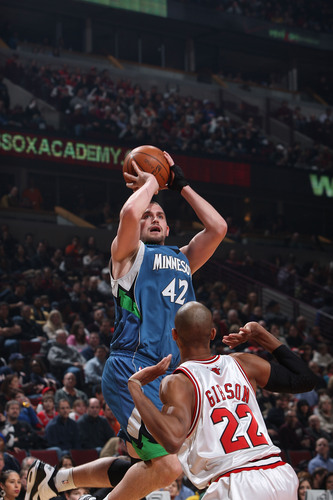 Bulls will travel to wolf territory tonight to take on a not-so vicious Wolves team. The Wolves seem like they have been struggling to find any intensity whatsoever on the court. Maybe it was the looming trade deadline that got into their heads, but with that long gone, the Wolves will need to focus ahead on a newer looking Bulls squad. The Bulls were busy during the rumor crazy week, sending John Salmons to Milwaukee and Tyrus Thomas to Charlotte. The Bulls really were setting themselves up for this summer's hot commodities in free agency and they may have sacrificed some of this season's success to do so. Bulls' center Joakim Noah will be on the bench tonight nursing a left foot injury. With the potentially gaping hole in the paint, the Wolves will need to get Al Jefferson going and get him going early. Also, the play from point guard Jonny Flynn will be crucial tonight, as he's struggled in the past few games.
Match-ups
Point Guard:
Jonny Flynn vs. Derrick Rose
Rose is one of the most stunning players to watch in the NBA today, and, well, Flynn is not. His shooting has been very inconsistent as of late — 16-46, a whopping 35% to be exact (Actually that is rounded up)– but it's not just his shooting that's been off either. He's only averaging 3.6 assists a game for the past five games. That's not acceptable from our so-called future point guard.
Advantage: Bulls
Shooting Guard:
Corey Brewer vs. Kirk Hinrich
Brewer has continued his hot streak and his 3-point streak dating back to January 6th is still intact. Hinrich won't pose a threat to him defensively, considering Brewer has about 4-5 inches on him in height. Hinrich is still a good guard though and helps Rose run things from the top of the key. The Wolves will need to be sure they don't leave him open on the perimeter when they have to collapse down on Rose when he drives the lane.
Advantage: Minnesota
Small Forward:
Ryan Gomes vs. Taj Gibson
This match-up is a wash. I have not been impressed by Gomes lately, although he did have a good night in Washington. I think my expectations are a little high for him and since I don't see it yet, so I've grown unhappy with him. Gibson is a good player but was exploited in the Rookie challenge, proving he needs to bulk up and work on his game before he becomes anything special in this league. But based on depth and a good game from Gomes on Wednesday, Minnesota has the advantage here.
Advantage: Minnesota
Power Forward
Al Jefferson vs. Luol Deng
Deng will be playing out of position tonight but this could pose a threat for Jefferson. Depending on who warms up first, they will have the advantage. Jefferson will have trouble guarding a stretch 4 who can post up and stretch his range. While Deng will have problems defending Jefferson on the block. I'm giving the advantage to the Wolves though based on the lack of depth upfront for Chicago. Even if newly acquired Hakim Warrick plays, either forward will have trouble defending Love and Jefferson.
Advantage: Minnesota
Center:
Ryan Hollins vs. Brad Miller
Again, I have nothing good to say about Ryan Hollins and my momma said that when I have nothing good to say about someone, don't say it at all.
Advantage: Chicago