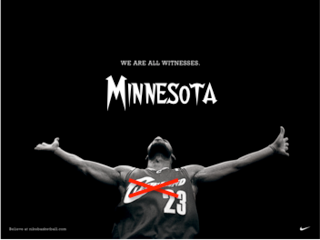 From the very moment after the Cleveland Cavaliers were ousted from the playoffs, the same question ran through everyone's mind; "Where will Lebron James be playing in 2010?"
While the sports world, as we know it, continues to spin, the news on James and is whereabouts for next season continue to come into question. They've flooded my news feed as well as yours too.The latest team to be identified as a possible destination for the courting of "King" Lebron James: The New Jersey Nets.
Really? The Nets, the worst team in the NBA, have a shot at acquiring Lebron James?
I, for one, am flabbergasted at how many teams have a shot at James this summer. It seems as if the list is up near around ten teams now. Do all ten teams have a legitimate shot at landing him? No. Does it also seem like reporters tend to bend Lebron every which way so that it looks like he could fit any team of their choosing? Yes.
So, let's play make-believe. Since the Nets are a possible destination for King James, then why can't the Wolves be too?
Once upon a time, there played a basketball team. Lonely and untalented, they longed for new ways. But how could one lure such triumphant aid into a land where the winter bears cold and harsh weather? Where transition defense and pristine perimeter play are unheard of? And worst of all, where the fans keep minimizing, one by one? The land of Minnesota was desolate yet longing for attention.
Well, not too far in a land called Cleveland, there resided a king, King James was his name. After growing discontent and uncomfortable with his current setting, he decided to depart for a new territory. King James demanded that this new land have gold and good hospitality, but most of all, the most profound scribe anyone could ever dream of. That is because King James was quite fond of being well-documented in a creative, yet abundant and constant fashion.
The search bore on for quite some time. The rigorous hours that teams put in catering to King James' every whim had them gasping for air but still praying upon the kings arrival. King James would tease teams such as the New York Knickerbockers and the New Jersey Nets. He would tell them that their team is offering plenty of gold and hospitality to acquire his services but he lied with every such word. In fact, many lands offered him a supple amount of gold and the most courteous hospitality but no one could seem to find a talented writer to record his accomplishments.
The days grew longer and still King James had no home, he started to grow impatient wondering when and where the right opportunity will come. And alas, a young howlin' t-wolf contacted King James about playing for a team in Minnesota, the cold, dreary wasteland that was longing for change. The young writer promised King James all of his inquiries; Gold, a home and a devoted writer to document his accomplishments. King James was thrilled that the search was over and he traveled to Minnesota.
King James swore that he would stay there for ten years and bring an array of gold hardware to the land of Minnesota. The land prospered for ten years and was home to nine MVP trophies as well as eight NBA championships. Minnesota was so grateful for their king's services that, after his retirement from professional basketball at the tender age of 35, they hoisted his banner up high into the ceiling of the Target Center so all fans could marvel at his accomplishments.
And then the Timberwolves hit a rough patch and re-built for another 10 years after.
The End!