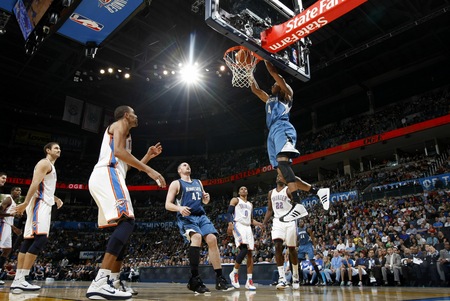 In the second quarter of his first regular season game as an NBA player, Wesley Johnson banged home an impressive one handed dunk in transition, putting Luther Head of the Sacramento Kings on a poster. The Target Center crowd, completely caught off guard, collectively reacted like a person who missed a step going downstairs in the dark…"whoooOAH!"
From there, the 2010-2011 season went mostly downhill for Wes and the Timberwolves.
Kurt Rambis, was utterly set in his offensive ways. Coming from Phil Jackson's Lakers, a team for which the Triangle offense has been run effectively to win multiple championships, Rambis brought the same stylings to Minnesota.
Flying in the face of logic, he continued to run the Triangle (built for superstar wings like Kobe Bryant and Michael Jordan) for Michael Beasley and Johnson, playing Beasley at the small forward and Wes at shooting guard.
It was an understandable idea. Beasley's size made him a mismatch for most small forwards. And if Wes could have pulled it off, he would have been one of the taller shooting guards in the league, standing somewhere between 6'6 and 6'7. He's an inch taller than Kobe, and 2-3 inches taller than Dwyane Wade and Ray Allen. With his athleticism, the mismatch potential had to be tempting for Rambis.
Surprisingly enough, however, putting Johnson at a position he had never played in college didn't work. The Timberwolves were incredibly inefficient last season, and Johnson was one of the main offenders. He shot 39.7% from the field overall. Worse, a rather stunning amount of his shots were jump shots (89% according to 82games.com), while only 7% of his shots came from close to the basket. This was a full 7% higher than fellow shot-happy rookie Jordan Crawford. One of the NBA's more offensively efficient shooting guards, the recently dealt Eric Gordon, took 26% of his shots close to the basket, while shooting only 70% jumpers.
Obviously, Johnson was settling for too many jumpers and not taking the ball to the basket enough. And the problem for Wes was that when he did go to the basket, he turned the ball over quite a bit, 11.6 times per 100 possessions. While this number doesn't look awful on its own (in fact, it's identical to Kobe's), the difference is the usage rate. While Kobe's usage rate was very high, at 35.1, Wes was merely 16.8. Basically, Wes turned the ball over exactly as many times as Kobe in half the possessions.
Ignoring the statistical evidence against Minnesota using the Triangle, Rambis continued to run it with  Johnson at shooting guard. He saw more than 80% of his minutes at the 2, and played the rest as a small forward. A player whose skillset had been compared to Shawn Marion coming into the league, Wes looked out of position and uncomfortable for the entire year.
None of this is to say that Wes is a bad player. He actually does have a decent (if over-utilized) jump shot, and when he gets on a hot streak, it can be a game-changer. He's quite athletic and has the build (long arms, quick feet) to become a very good defender. If the Wolves turned him into a Shane Battier-type defender who could knock down open threes and run the floor in transition, perhaps that would be his calling as an NBA player.
The good news for Wes is that Rick Adelman won't limit the offense to a single formation the way Kurt Rambis did much of last year, and is much better at juggling rotations and recognizing player strengths.
The bad news remains the same: this team is chalk full of athletic forwards. And unless he has made some very significant improvements over the summer, Wes simply is not an effective shooting guard.