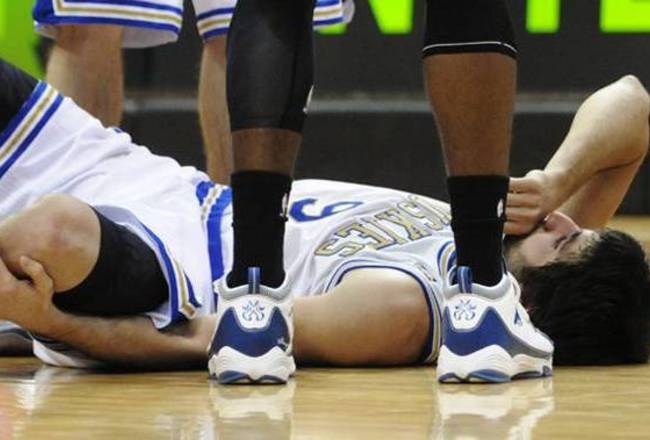 We have reached the Top 3 of T-Wolf Rank. We hope you have enjoyed reading the posts as much as we have enjoyed writing them. As always, you can follow Jonah (@howlintwolf) Derek (@DerekJamesNBA) and Tom (@Tom_NBA) on Twitter as well.
Having a solidified point guard in the NBA is a lot like having a long-tenured quarterback in the NFL (And, no, I'm not getting into the replacement refs). A quarterback is the commander both on and off the field; he's the general to his comrades and a symbolic leader for the ownership and fans alike to adore. With a good one, a team can at the very least stabilize themselves in above-average play. Without one, a team is bound for dismal seasons and endless waves of face-palmed fans.
The Timberwolves have never had that guy — thus the thousands of former, now face-palmed fans. You know, the one we can call our captain. The one players can deeply invest their game and trust in. The one fans can sport his jersey for an endless amount of years without any retro aspect weighing in. I'm not saying it's an easy feat to find that player but the Wolves haven't even come close. They've trotted out lifelong backups and various projects on the court since their birth of existence. The closest thing we've ever had was Stephon Marbury or even Terrell Brandon.
That's just pitiful.
So when you think of Ricky Rubio's arrival to the Twin Cities, it's sort of like a God-send in disguise. No, he's not Jesus nor will he become the next Pistol Pete but he certainly won't be another Jonny Flynn. And for that, we're thankful. He's going to be somewhere in between. Where he lands on that scale is only a matter of hard work, dedication and, frankly, how long this team can stay devoted to winning.
Last season when Rubio exploded onto the scene, no one expected anything like that from him. Many Euro-born players have some transition time they need to acquaint their self in the league. But Rubio literally did hit the NBA from the blindside. He was spectacularly effective and certainly a show-stopper but he also showed us some inexperience and areas of his game that certainly need improvement. Most notably, he's an average shooter, at best, and could also use some work on his pick 'n' roll defense (It's bizarre how good he is with the pick 'n' roll on offense but still greatly struggles to defend it.)
The thing is that we're, no, I am in no place to critique. We've quickly learned in the last year that Rubio could possibly be the quarterback the Timberwolves have so desperately yearned and just a flat-out special player to cheer for. He's a flashy player with a adolescent flair fans have fallen head over heels for. But he's also one of the smartest players I've seen and a devoted worker — we've seen that in all the updates on his rehab coming back from that torn ACL. It'll be tough to start the season without him, but I have a feeling that once he returns, likely by the beginning of December, the team will move forward without a hiccup because everyone will embrace the franchise's newfound quarterback.